Home

/

De Lorenzo Foundation
The De Lorenzo Foundation is a body linked to De Lorenzo Abogados, whose general purpose is training, research, opinion and independent dissemination regarding Health Law. Specifically, it is a suitable forum for the training of Lawyers specializing in Health Law. Therefore, with the experience of people who are well qualified in the theory and practice of the field, the intention is to create the best Health Law specialist lawyers, by providing the appropriate encounter between two of the great humanities: Law and Medicine —the latter being considered in its widest sense of health science— so that they are able to adequately defend the interests arising from relations between users or patients and the National Health System or, above all, between the former and the doctor or health workers.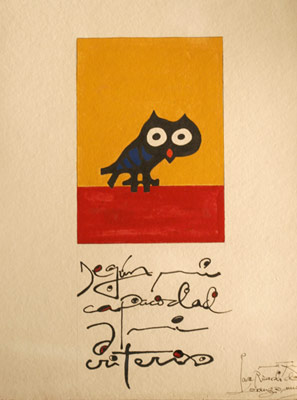 "POWER OF INTELLIGENCE CHALLENGING THE BOLDNESS OF DARKNESS, 2004."
Author: Juan Méjica
The icon, Juan Méjica, refers us to a well-known totem of classical tradition, which exemplifies to an extent the worship of intelligence and broadmindedness, and also the expression of thought and knowledge. And all this under a symbology which refers to a person's own capacity and standards, demanding a spirit of professional perfection and maturity of opinion.